This was the first hat I ever knitted.  It is simple yet uses some new techniques to keep your brim even and stretchy and has fun colors for kids or kids at heart.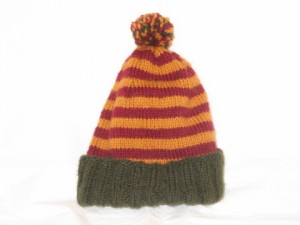 Needle: #7 16" round
Yarn: Ella Rae Kamelsoft  (merino /camel blend) (88yrds per ball)
            (1)Dark Green
            (1)Dark Red
            (1)Mustard
Stitch Markers
Darning needle
Cast On Method: German Twist
            Small (60) Med (80) Lrg (100)   I used 80 for the hat shown, it fits most size heads
Brim: Mark beginning of round with a stitch marker
Work Knit 2 Purl 2 (K2P2) ribbing until 4 inches in length in Green
Hat: Starting with Mustard color knit 4 rounds switch to Red and knit 4 rounds.  Continue until when you try on the hat it is of a good length.  (TIP: see video for how to do joggles stripes)
When you are satisfied with the length it's time to decrease rounds.
Place stitch Markers every 10 stitches. 
Knit the first 2 rounds of the color as normal
On the 3rd round of the color K2tog the last 2 stitches before your marker
Knit the 4th round as normal
Switch to new color and repeat above.
Continue decreasing until difficult to do so on circular needles.
Cut a long tail and use the tail to slip the stitches off your needles.  Draw the top together and secure the top and darn in your tail end.
Use a pompom maker with all 3 colors to make a nice ball for the top.
This hat is meant to have a triangle shaped top that stands up like Where's Waldo's hat does. Have fun and enjoy!