I'm not sure why but I have a thing for shawls at the moment.  One thing I've learned is never pass up motivation! 
At first I decided this next project would be for ME.  But as I started working on the shawl with yarn I bought by ME for ME I realized it's not what I wanted.  Ugh.  I'm so complicated sometimes!  I did realize that I love this pattern but the colors of the yarn weren't doing anything for me.  Don't get me wrong I really like this microfiber yarn, it's soft, shinny and worked up easily but, I think I want some minor changes for a self-kept project.
So, this shawl, when finished, will be put up for sale.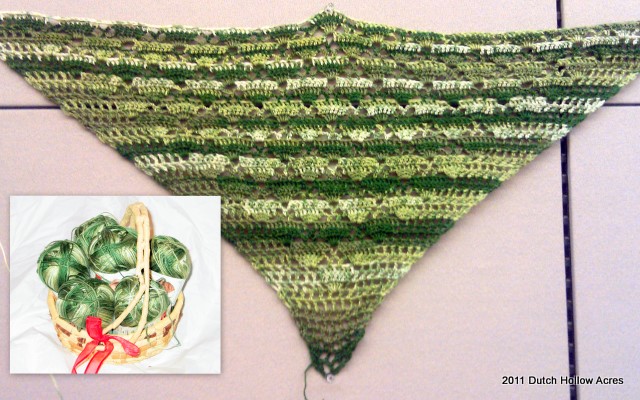 My shawl will eventually be the exact same pattern but in an ivory (or charcoal) 100% alpaca lace weight yarn instead.  I've never attempted a lace project before.  I'm hoping having muscle memory with the green shawl will help me tackling a lace weight project.
I found the shawl pattern on Ravelry and it is written very well.  I had to read it line by line until I committed the pattern to memory and I'm thankful it was written correctly.
What are you up to this week?