Welcome back Fiber Arts Friday followers.
As many of you blog hoppers know this month is Tour de Fleece and with that comes challenge days where spinners try something new or a method they have been struggling with.  I was inspired by a post written by Wind Rose Fiber Studio and decided to learn how to spin beads myself.   Here is how I thread my beads for spinning.
Supplies:

Beads of your choice
Needle Threader
Fiber from the roving/bat you will be spinning from
Initially I used a beading needle and thread but I found the Needle Threader works SO much better and is a lot faster.
Step 1
Pop the bead on the threader
Step 2
Prepare a small bit of fiber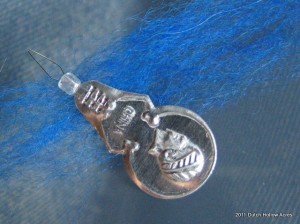 Step 3
Place thread a bit of fiber through the threader, don't pull too far on.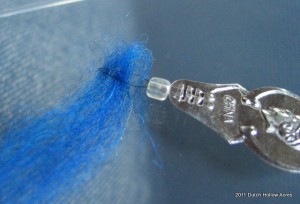 Step 4
Pull the bead over the threader and onto the fiber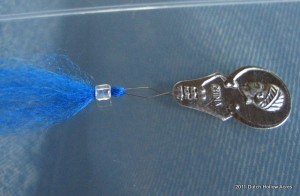 Step 5
Move the bead to the center and fluff up the ends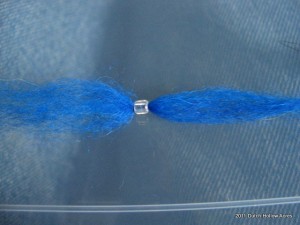 Now you have your threaded beads ready to spin into your single!
TIP! When spinning the bead into your single keep a bit of fiber on the outside of the bead to hold it into place.  Wind Rose has a great photo of what I'm talking about… Click Here for Photo
Calling all Team of Wonder Tour de Fleece Participants!
Enter to Win!
Share photos of you threading beads with fiber or spin up a small sample of beaded yarn on the Team of Wonder TdF thread to win.
Winner gets 60 pre-threaded glass beads on alpaca/wool as well as 2 oz of the matching roving.   Glass bead color choices, purple, green, black, purl, or a funky brown metallic like shown in the photo below.