Why hello everyone!
So with Tour de Fleece over I have lots of hand spun goodness in my stash and I've started using some of it.  All the talk of the Wine and Wool festival got me thinking about an event I attend as a vendor in the fall, the Genesee Valley Hunt Races.  The races draws in about 10,000 visitors and over the past few years they have added a rather large farmers market which has morphed into a wine market since we are in wine country.
Long story short, my booth was mingled in with tons of wineries and at this event the wineries can sell the wine and you can open it and drink away right at the races.  Open container is not a problem at this event.   That got me to thinking about adding a little fiber favor for all the wine that is consumed at the races and I came up with these very functional wine bottle koozies!
It turns out alpaca works amazingly well as an insulator to keep the wine at a perfect temperature even on these hot and humid days we've been having.  I tested one out at a cookout we had over the weekend and an hour later as I poured the last of the white wine it was still chilled even though it was 86 and humid out.  I'm listing some in our Etsy Shop if you want to purchase one.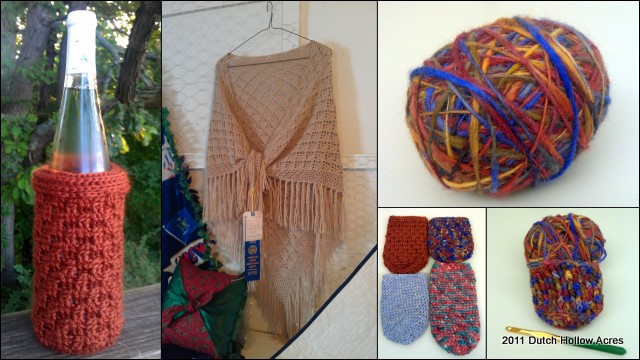 The shawl in the photo I entered into our county fair and yes, that is a blue ribbon we received!  Viva Alpaca!
Fiber Wordless Wednesday
Here's a short video of my little filly meeting 2 of our alpaca boys for the first time.  Usually I don't turn alpacas and horses out together but these 2 boys seem to enjoy the equine company.
Mister Linky's Magical Widgets — Easy-Linky widget will appear right here!
This preview will disappear when the widget is displayed on your site.
For best results, use HTML mode to edit this section of the post.