Good day Fiber Arts Friday fans!
I've been a busy busy girl this week.  Last weekend we started shearing our alpacas and got 3 of them done.  I also split the cost of some Unicorn Fiber Wash with Seven Spirits Farm and so I spent the rest of the weekend skirting and washing our newly shorn fleeces.   They are currently up for sale if anyone is interested.
I've also been participating in the Facebook Fiber Swap which has been wonderful.  I've gotten and sent out many goodies and this is what is currently on my bobbin.  It's an art bat filled with pretty much everything you can think of minus the kitchen sink.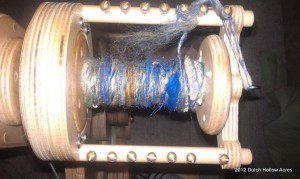 Here's a photo of a center pull roving bump I dyed up.  It would make a fun yarn for anyone who wants to knit something up for a baby shower but for someone who doesn't want to know the sex.  Is it a boy? or Is it a girl?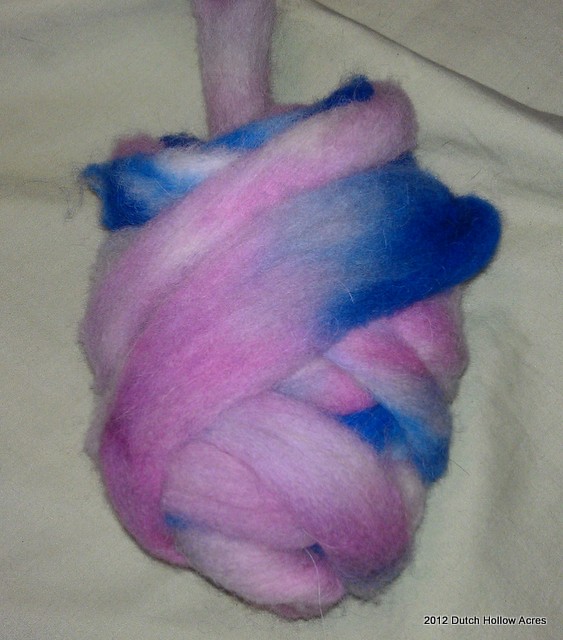 I also found time to finished my black alpaca bobbin, plied and it is nicely wound up in a center pull ball.  It too is currently up for sale on etsy.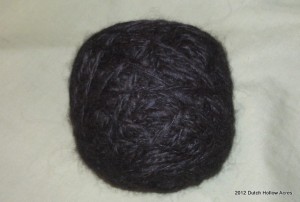 Lastly I tried my hand at navajo plying with some white alpaca I have.  Ugh, what a challenge that was.  I had breaks, over twist, under twist and just a general terrible time.  Oh well, it's finished and since I did such a poor job it's not worth selling but I now have to think up a project for it so it doesn't go to waste.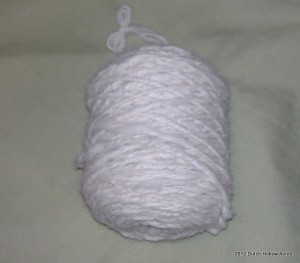 GIVEAWAY!!!!
I'm doing a Lollypop Yarn Giveaway this month!
Like our Farm page and be entered to with a skein of Lollypop Yarn! A $10 donation to Lollypop Farm (Humane Society of Rochester NY) will be made in your name plus you get a lovely skein of yarn from one of their sheep! (Drawing on April 30th!)
http://www.facebook.com/pages/Dutch-Hollow-Acres/160939610604214