Happy Fiber Arts Friday!
I finally finished my KAL La La Shawl.  After binding off I decided to half double crochet a boarder out of some hand spun yarn I had that.  Sorry It's not blocked yet so here's just a teaser photo.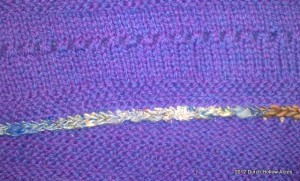 I've also been dying the Facebook page winner Lollypop skeins and here's the latest one that came out of the dye pot.  Dark blue, purple and green.  Photos never seem to get the colors right but at least the purple showed up this time!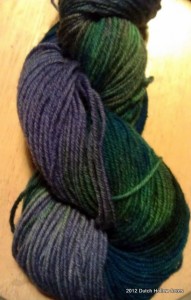 Lastly we have furs! Yippy!  A few weeks ago a few of us took a road trip down to the tanner to pick up our orders and toured the facility.  Color me weird but I just love tanneries.  No where else will I ever be able to get to feel the wonderful textures of so many different pelts from wolverines to giraffes.  Anywho, here's the furs I now have up on Etsy.